Sports
Fourth Test day five, updates, results, news, video 2020-21
Former Australian captain Steve Smith has revealed that he had no part in the non-declaration from his side on day four of the fourth Test against India.
While current captain Tim Paine and coach Justin Langer have always maintained that Smith's counsel is valued, after he was axed as skipper over 'Sandpapergate', the superstar batsman said that he had no say in a monumental decision that could decide the Border-Gavaskar series.
There has been criticism that Australia's non-declaration was conservative, batting to all-out 327 runs ahead with inclement weather surrounding Brisbane; rain stopped play within two overs of India's second innings, at 0-4.
"I'm not too sure, I wasn't involved in those conversations," Smith told reporters of Australia's decision, while maintaining that the Aussies had a good shot at victory.
"I think the wicket's certainly different to what it is in Sydney. There's a bit more happening here.
"We saw a few balls hoot up today, a couple kept a bit low, [and] a couple went off cracks, which is always playing on the batters' mind. So for us it's about hitting really good areas and being nice and patient.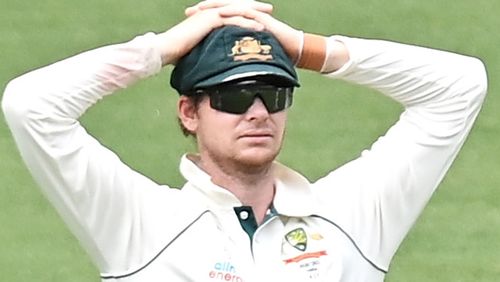 "There's a nice crack forming outside the right-hander's off stump that [Nathan Lyon] will probably be looking to aim at I assume, that's a nice line. If he hits good areas consistently [Tuesday], there's certainly no reason why he can't create some chances on a day-five wicket.
"It's hard to know. Obviously with the rain coming, we're certainly not weathermen and don't know it's coming, so you have to play the game as you see it as well.
"I think the game's in a nice place for us. The wicket's started to play a few tricks today, a couple of balls shot up. So [Tuesday], I think it's just going to be about bowling good areas and letting the natural variation of the day five wicket do its work and hopefully we can hold on to all the chances.
"The Indian players have batted well. In Sydney, we bowled 130 overs – obviously a different wicket to that [Brisbane] – but for us, it is just about being patient, not searching too much, bowling good areas and just letting it happen.
"I think the more you go searching for it on these kinds of tracks, then you probably don't get the rewards. So it's about hitting good areas consistently and letting the natural variation of the wicket take its course."